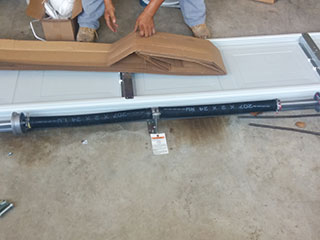 The weight bearing parts that help your garage door move up smoothly and with relative ease on a daily basis are the springs. These components use tension-based force in order to counterbalance the weight of the panels, saving you the herculean effort it would take to try and physically lift your door without them. As a result, when these units break or wear out, the entire mechanism can become inoperable.
The Potential Danger
Trying to replace a broken garage door spring yourself is ill-advised. Special tools and professional skills are required to do so safely, and unless you have the necessary experience, you'll be taking a huge risk. The reason is that these units are under a lot of tension, and mishandling a spring, broken or not, can lead to serious injuries. These units can whip around violently and cause severe lacerations or property damage. You'll definitely want to avoid taking such needless risks and let our technicians lend you a helping hand.
Two Types – Two Methods
If your garage door has torsion springs, you'll be able to tell that very simply. For once, the units (or unit) will be set above the door horizontally, installed across a metal shaft. These types of units are very durable and flexible and are usually preferred whenever possible. Of course, they require a certain amount of headspace, and may not be a fit for every type of garage door. That's where the second type comes in. Extension springs have been around earlier than their counterparts, but they are nowadays considered riskier, due to the fact that they're more likely to whip around. Their lifespan is shorter too, and they're usually attached to safety cables that anchor them and prevent them from whipping around in the event that they break.
Get Expert Assistance Today
There's no reason for you to risk adjusting or replacing your door springs on your own. Our team here at Garage Door Repair Millcreek is more than happy to help, and our technicians can quickly take care of any problem you may be experiencing. Call us today.
When it comes to your door, we don't settle! We also offer:

Roll Up Garage Door Services

Belt Drive Opener Installation

Garage Door Safety Inspections

Galvanized Torsion Spring Installation