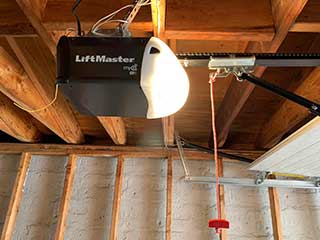 There are all sorts of mechanical and electrical components involved in the operation of your garage door opener, and when one of them malfunctions, the unit can start behaving erratically, or fail to work at all. Technical skills and experience is required to fix most of the problems that can affect this device. Good thing our technicians have boatloads of that.
Common Opener Problems
Due to the fact that this device relies on vastly different components in order to work, the range of potential malfunctions is quite vast in its variety. Motor gears can break after a certain amount of time, and the circuit board can require replacement due to power surges and other electrical problems. Even the drive system can experience some issues, and anything from the trolley to the actual drive itself (chain, belt or screw) can be damaged and will need to be replaced. Most opener related problems should only be handled by professionals, to avoid potential injuries.
The Importance Of Maintenance
In order to ensure that your motor unit is working optimally you should have it checked and tested every so often, just to be sure that there are no underlying problems ready to pop up. The alignment of the safety sensors needs to be tested and adjusted correctly, as does the force limit setting of the auto-reverse mechanism. These safety features are what ensures the opener won't close the door while there's something or someone in its way, so their functionality is incredibly important. In addition to these tests (which our team performs during every garage door maintenance appointment), we'll also examine the different mechanical parts, and lubricate the moving metal ones to promote a smoother operation.
Our Team Is Here To Help
Whether you have a chain drive opener, a belt drive unit or a screw drive model, you can rest assured that our technicians at Garage Door Repair Millcreek will be able to help you with any issues that pop up.
Want more? Let us take care of:

Replace Door Sections

Garage Door Remote Clickers

Broken Garage Door Spring Replacement

Maintenance Garage Door Torsion Spring