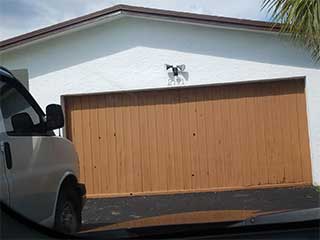 A complex mechanical system will gradually break down due to the constant wear and tear it suffers from. However, with proper maintenance, that inevitable end can be delayed by a significant margin. The professional service appointments that our company provides can help you not only increase the longevity of your automatic door, but ensure that it functions smoothly right until the very end.
Prevent Spring Problems
Because garage door springs are under constant tension, it's not surprising that they end up breaking after a while. However, if you make sure to have them routinely adjusted and lubricated, they'll be able to last for a lot longer, and you won't have to deal with the dangers and inconvenience that a broken spring presents. Tension adjustment should only be carried out by professional technicians, as it can be very dangerous and you could get seriously hurt if you mishandle it.
Keep Your Family Safe
Your automatic opener uses special safety features to ensure it doesn't close the door while there's a person or an object in its way. However, those features can malfunction, so it's important to check them periodically to determine whether or not they're working correctly. As part of our maintenance routine, our team will test both the safety sensors and the auto-reverse mechanism, and adjust their settings as needed to ensure they door will reverse when it encounters or detects an obstacle.
A Smoother, Quieter Door
Noisy can be a real issue for many households, and a garage door that makes a ruckus every time it's used is never fun. By having our team lubricate the rollers and the hinges, we'll be able to reduce the noise output of the door, which will also have the added benefit of making it work more smoothly and with less wear-and-tear-causing friction.
Give Us a Call
If you want to make sure you're getting the most out of your system, give our team at Garage Door Repair Millcreek a call. Our professional maintenance service will see to it that your door has a long and useful life.
We also take care of:

24 Hour Garage Door Service

Oil Tempered Torsion Springs

Genie Garage Door Openers

LiftMaster Chain Drive Lubrication